Dr. Shirley A. Kleiman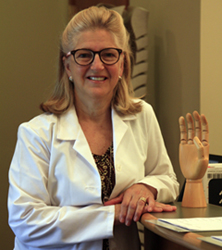 PT, DPT, PSP, OCS, BS Edu., Coaching Cert, Certified McKenzie MDT

Education
Primary Spine Practitioner from University of Pittsburgh
Doctorate in Physical Therapy from Boston University
B.S. in Physical Therapy from Grand Valley State University
Awarded "Distinguished Alumna" from Grand Valley State Univerity
B.S. in Education, Coaching Certification from the University of Wisconsin-Stout
Specialty Certification
Orthopedic Certified Specialist from the American Physical Therapy Association, since 2009
Certified in McKenzie Mechanical Diagnosis and Treatment, since 2003
Licensed physical therapist in the State of Michigan, since 1986
Licensed physical therapist in the State of Massachusetts, since 2005
Licensed physical therapist in the State of Florida, since 2017
Practice
Her physical therapy career began at Butterworth (Spectrum) Hospital in Grand Rapids, Michigan, where she served as the clinical back specialist. She has been the owner of her growing private clinic since 1990. Ms. Kleiman is a former adjunct faculty member of the Grand Valley State University Physical Therapy program.
Research
Research on Biomechanical Correction Technique has been presented at the Michigan Physical Therapy Association (MPTA), the American Back Society, and the National APTA combined sections meeting. She has partnered with GVSU graduate students in clinical research.
Professional Affiliations
American Physical Therapy Association (APTA); Member of Orthopedic, Research, Sports and Private Practice Sections of APTA; Michigan Physical Therapy Association (MPTA); Former editor of MPTA Western District Newsletter.